The Family Dinner: Quick and Easy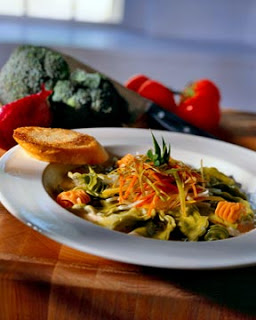 Everyone enjoys homemade meals, but few of us have the time to devote to home-cooking. Preparing your own food allows you better control over the quality of ingredients that go into each meal. Cooking at home gives you the option of selecting high-quality fresh organic ingredients for you and your family. Takeout and pre-package meals are generally much higher in fat, salt, and calories than their distant-relative: the old-fashioned home-cooked meal.
So, put on a little music, do a little planning, and get in the habit of cooking at home! Here are few tips to get you started:
Invest in a slow cooker. This is fabulous piece of equipment for busy families. You can prepare your main dish in the morning and come home to a delicious, ready-to-eat meal.
Buy a few cookbooks that focus on simpler cooking techniques, such as 30-minute meals, slow cooker recipes, or five ingredients or less. These types of books are geared toward getting meals on the table quickly and easily. Look for books that offer shortcuts, prewritten shipping lists, and menu ideas.
Plan your menus and make a grocery list. These two steps require finding spare time, but they will save it in the long run.
Buy prewashed veggies in the produce section of stores. The clean and prep is often the most time-consuming part of cooking.
Buy "no cook" items like apples, pears, avocadoes, tomatoes. A fruit plate or veggie salad makes a terrific side dish.
Make extra for leftovers—leftovers make great lunches and snacks. If you're making a family favorite, double the recipe and freeze a portion for next week.
Set aside time on the weekends to make foods in advance and freeze them. Connect with a friend, double the recipes, and split up the meals for both families.
Share the burden. Team up with a friend and have a family dinner at their house one night and switch to your house on another. For a different twist on the same concept, divide up the menu between families and share the work.
Don't schedule your kids' day out so heavily that it intrudes on time to prepare dinner. Instead invite the kids into the kitchen and teach them a few things about cooking — it's a life skill that they will certainly thank you for some day!
Keep it simple. There is no need to strive for gourmet every day. It is often the simpler dishes that have the best flavors too.
Aside from having the benefit of knowing that fresh, organic ingredients are going into your meals, you will spend valuable time in the kitchen and around the table with your family—even if it is quick and easy!
Cheryl Tallman and Joan Ahlers are sisters, the mothers of five children and founders of Fresh Baby. Visit them at www.FreshBaby.com and subscribe to their Fresh Ideas newsletter. Fresh Baby Baby Food Kits and other products are available at many fine specialty stores and national chains including Target, Wild Oats, and Whole Foods Markets.