Plant-Based Protein Powerhouses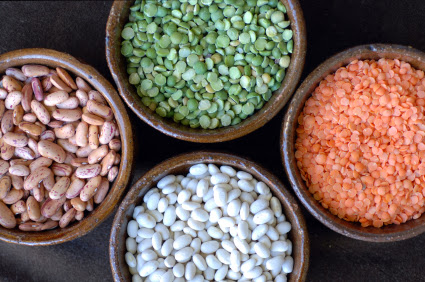 Like most people who have a higher health conscious, most vegans and vegetarians have a story about how they came to the decision to live their particular lifestyle. No matter your reasons, one of the challenges for non-meat eaters is making sure they get enough protein every day. But it's not as big a deal as many think. Like most of the nutrients from quality food, a little goes a long way. Back in the hunter/gatherer days, primitive man ate a lot less meat – usually around 20% of his total diet – a far cry from how much the average American consumes daily in the 21st century.
Protein is an essential nutrient that plays a key role in how our bodies function. But too much protein is associated with several diseases. It is more important to eat a varied diet than to isolate and focus on any one nutrient. Including more plant sources of protein will also offer more health benefits including more fibre and nutrients. There are lots of nutrient dense foods with a high protein content, here are some of the top plant based proteins:
Below is a list of the top-7 plant-based foods high in protein and view our plant-based protein chart for simple conversions.
1. Quinoa: 11g Protein / Cup
A grain like seed, quinoa is a high protein alternative to rice or pasta, served alone or over vegetables and greens. It provides a good base for a veggie burger and is also a fantastic breakfast cereal when served cold with almond or coconut milk and berries.
2. Lentils: 17.9g Protein / Cup
Delicious, nutritious and super easy to prepare. Trader Joe's sells them pre-cooked and I'm not afraid to just eat them cold right out of the package for lunch or a snack on the run.
3. Tempeh: 24g Protein / 4 Ounces
A fermented soybean-based food, tempeh is a healthy protein-packed alternative to it's non-fermented cousin tofu. It makes for a great veggie burger and doubles as a tasty meat alternative to meatballs in pasta, or over brown rice and vegetables.
4. Seitan: 24g Protein / 4 Ounces
An excellent substitute for beef, fish and soy products, one serving provides about 25% of your RDA of protein. But not for those with gluten sensitivities, as it is made from wheat gluten.
5. Beans (Black, Kidney, Mung, Pinto): 12-15g Protein / Cup
I love beans. Great on a veggie burrito, in chili and soups, on salads or over rice with vegetables, beans of all varieties are a daily staple of my diet.
6. Spirulina: 6g Protein / 10 grams
A blue-green algae, spirulina is a highly bioavailable complete protein containing all essential amino acids. At 60% protein (the highest of any natural food), it's a plant-based protein powerhouse that finds it way into my Vitamix blends daily.
7. Hemp Seeds: 16g Protein / 3 Tbsp
With a perfect ration of omega-6 and omega-3 EFA's, hemp seeds are another bioavailable complete protein rivaled only by spirulina. A simple and great addition to a multitude of dishes, from breakfast cereal to salads to smoothies to vegetables and rice.