Hunting for Organic, Local Winter Produce?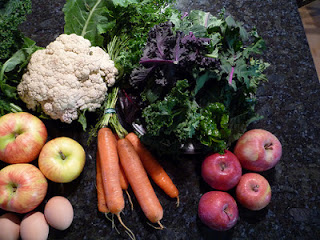 Shopping for organic produce in the winter can be expensive and a challenge, but there is a bigger bounty of produce available than you might realize. Eating seasonally, which is essentially eating locally, makes it more manageable. If you get over the idea that you should be able to eat anything you want anytime of the year, you will provide yourself with exciting opportunities to try new foods and seasonal recipes.
The winter organic produce list below is general — the region you live in may provide more, or less. Also below are links for finding winter produce recipes, as well as local and seasonal food in your area. And be sure to try our winter recipe pick — Sunset Magazine's

delectable seven-vegetable couscous dish with a Moroccan spice mix!
Winter Organic Produce
Potatoes, sweet potatoes, beets, carrots, leafy greens (kale, chard, spinach and more), cabbage, broccoli, cauliflower, apples
Tips for Healthy Winter Eating
Eat what is seasonal and local — produce that is not seasonal or local has typically traveled a long way

Buy a winter CSA (Community Supported Agriculture) share
Utilize Environmental Working Group's list

to identify foods highest in pesticides and buy organic whenever possible — some of the "best-to-buy organic" veggies on our winter produce list are apples, spinach, potatoes, lettuce, and kale

Remember that soups are a hearty, traditional winter dish that can be customized to make best use of your available local produce
CSAs, Winter Farmers
Markets and Local Food in Your Area
The Daily Green – Enter your ZIP code in the "get local info" box on the home page to find organic, local, and seasonal food in your area from stores, farms, farmers markets, and CSAs
Eat Well Guide – This guide also uses your ZIP code to direct you to local, sustainable, and organic food sources in your area.
Sustainable Table – Check out this seemingly endless list of shopper's guides to sustainable eating, and more.
Natural Resources Defense Council – This great resource provides an abundance of information about seasonal and local eating, and what and where to buy organic and local
Locavore Network – This invaluable resource for information on local, organic food makes organic shopping easier.