Health Powers of Asparagus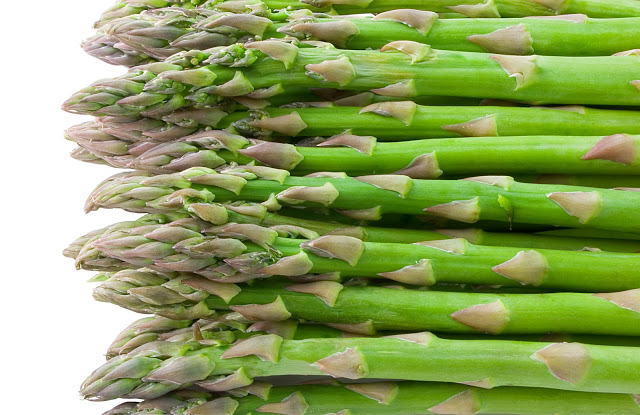 Asparagus found to have anti-cancer properties.
A new study published in the Indian Journal of Pharmacology found asparagus contains certain compounds that have substantial anticancer properties. Researchers tested the compounds, known as shatavarins, on test tubes of human breast, colon and kidney cancer, as well as on mice with breast cancer.
All the results showed that shatavarins had potent toxicity against cancer cells. Extract of asparagus administered orally in doses of 250 and 500 mg/kg body weight for 10 days caused a significant reduction in tumor volume and tumor cell count.
Asparagus may help prevent diabetes.
In addition to the anticancer properties of asparagus, it may have some anti-diabetic properties as well. Researchers at the University of Karachi in Pakistan found that high doses of asparagus extract had a positive effect on insulin output by the pancreas. The findings add to a 2006 study by the British Medical Journal that found the vegetable triggered an 81 percent increase in glucose uptake by body tissues. Therefore, asparagus can help diabetes by stimulating an increased production of insulin, in addition to enabling the body to absorb more glucose.
Asparagus may prevent a hangover.
Those who celebrate the New Year by drinking too much alcohol may prevent a hangover by taking asparagus extract. Chronic drinking can cause detrimental changes in the liver, as well as the unpleasant symptoms of a hangover. Scientists at the Institute of Medical Science and Jeju National University in Korea found the asparagus extracts "significantly alleviated" the cellular toxicity of alcohol, a benefit that translates to lessening of a hangover and protection of liver cells.
Asparagus offers up tremendous cardiovascular benefits.
This vegetable contains a compound called rutin that can help prevent deadly blood clots, which can lead to heart attacks and strokes. Moreover, asparagus is a good food source of folic acid, a nutrient that helps counter the bad effects of homocysteine, an amino acid in the blood linked to increased cardiovascular risk.
Asparagus can help balance out your electrolytes
Adding to the list of impressive health properties are three more benefits. Asparagus is a rich source of potassium, a mineral that regulates fluid balance; so the diuretic effects of asparagus can reduce bloating in the tummy area that sometimes occurs after eating a big meal. The vegetable also has anti-inflammatory and antifungal properties.