4th of July Food Ideas: Red, White, Blue and Delicious!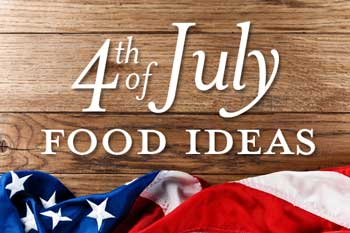 Looking forward to our nation's birthday? One of the best ways to make this July 4th memorable is a patriotic picnic.
So how to make a picnic patriotic? However you can, show your colors: red, white and blue.
Perhaps the easiest way is with everything but the food. Plates, cups and utensils – get them in red, white and blue – or each in one of the three colors. Make sure your table cloth or ground cover also sets the colors right.
And think green, with red, white and blue. Try to use reusable, such as white or blue cloth napkins, white china plates, and blue cups. Get fun decorations like streamers and flags. And for picnics heading into the dusk, sparklers add festive light.
Next, you'll want to think of foods and drinks that are easy to carry and serve. And of course, you'll want to enjoy foods that fresh and unique to the season, so plan on favorites like grilled foods, fresh fruits, summer salads, and of course corn on the cob.
Here are some 4th of July food ideas that show your colors
Fruit Salads – One of the best ideas for a patriotic picnic is a fruit salad. First, there are so many fresh summer fruits that are red or blue. Mix blueberries with strawberries, raspberries, or chunks of watermelon. Then top it with whip cream – or put it on yogurt – for a cool, sweet, patriotic treat.
Tomato Salad – Another great choice. There are many varieties of tomatoes, so choose the right color for your Independence Day salad. Top with mozzarella salad, serve in a blue bowl, and you've got a great flag-saluting side dish.
Red Potato Salad – While we all know russet potatoes, the fact is there are many varieties. For the 4th of July, pick red potatoes. Top with shredded mozzarella or white cheddar, and serve in a blue bowl. Tasty and colorful!
Coleslaw – Another great salad idea for your holiday picnic. With so many varieties of cabbage, you can choose white, red and purple varieties to create a colorful mix. And as an added plus, cabbages are among the most healthy vegetables, and tastes great chilled – making in an awesome summer salad.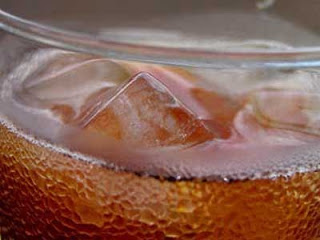 Iced Tea or Lemonade – Cool and refreshing, both tea and lemonade come in many varieties – and colors. As an added plus, many teas have super healthy antioxidants, which slow aging and help prevent cancer. So choose a red tea or strawberry lemonade, and float some blueberries on top. Serve in white cups or with white napkins, and you've saluting your flag.
Chicken – There aren't any meats that are red, white and blue – and if you see some, you probably shouldn't eat them. But your picnic can still feature a great meat dish. Chicken is a great choice because it's easy to eat with fingers, not too greasy, and a healthy lean meat. And it's delicious and popular cold, perfect for being outside at a picnic. Try it baked, grilled and fried.
Dessert – This is where you can really let your colors show. Some ideas include patriotic parfaits, a patriotic sundae, or red, white and blue ice creams or sorbets. Won't be using a cooler? Try making a blueberry cobbler topped with strawberries and whipped cream, or bite-size cheesecake squares with blueberries and pitted cherries.